A New York Times opinion piece claims that speech which hurts one's feelings equates to violence.
In an article titled When Is Speech Violence? the author tries to conflate mental anguish and a case of hurt feelings with actual physical violence.
The author claims that the physical symptoms of stress induced by speech you don't agree with can have a physiological impact upon you.
The piece goes on to argue that if you're causing someone chronic stress that you're going to shrink their telomeres and cause their cytokines to make them sick.
So, trolls beware, you're causing your victims to be physically sick – and shortening their lives – just by upsetting them.
The article concludes by saying that people like Milo Yiannopoulos are actually committing violence with their terrible hate speech and that they should be kept from college campuses.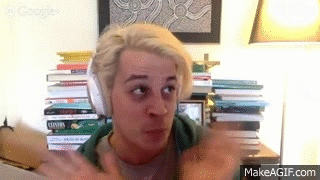 Leave my cytokines alone, bigot! From the article:
Your body's immune system includes little proteins called proinflammatory cytokines that cause inflammation when you're physically injured.

Under certain conditions, however, these cytokines themselves can cause physical illness. What are those conditions? One of them is chronic stress.
You're shrinking muh telomeres:
Your body also contains little packets of genetic material that sit on the ends of your chromosomes. They're called telomeres. Each time your cells divide, their telomeres get a little shorter, and when they become too short, you die. This is normal aging. But guess what else shrinks your telomeres? Chronic stress.
Types of speech (the offensive kind) are basically the same thing as violence:
If words can cause stress, and if prolonged stress can cause physical harm, then it seems that speech — at least certain types of speech — can be a form of violence.
According to the article we need to ban speakers based on whether or not they trigger people:
The scientific findings I described above provide empirical guidance for which kinds of controversial speech should and shouldn't be acceptable on campus and in civil society. In short, the answer depends on whether the speech is abusive or merely offensive.
This is apparently why we need to use trigger warnings and beware of microaggressions:
"Trigger warnings" are based on a similar principle: that discussions of certain topics will trigger, or reproduce, past trauma — as opposed to merely challenging or discomfiting the student. The same goes for "microaggressions."
So, because of cytokines and telomeres and microaggressions, let's ban MILO!
That's why it's reasonable, scientifically speaking, not to allow a provocateur and hatemonger like Milo Yiannopoulos to speak at your school. He is part of something noxious, a campaign of abuse. There is nothing to be gained from debating him, for debate is not what he is offering.
MILO, not only DANGEROUS, but also violent:
By all means, we should have open conversations and vigorous debate about controversial or offensive topics. But we must also halt speech that bullies and torments. From the perspective of our brain cells, the latter is literally a form of violence.
Watch MILO eviscerate the media and – according to The New York Times – actually shorten their lives.
Source:
The New York Times